photo by other website


Arduino
is an open source computer hardware and software company, project, and user community that designs and manufactures single-boar.
Arduino consists of both a physical programmable circuit board (often referred to as a microcontroller) and a piece of software, or IDE (Integrated Development Environment) that runs on your computer, used to write and upload computer code to the physical board.
The Arduino platform has become quite popular with people just starting out with electronics, and for good reason. Unlike most previous programmable circuit boards, the Arduino does not need a separate piece of hardware (called a programmer) in order to load new code onto the board – you can simply use a USB cable. Additionally, the Arduino IDE uses a simplified version of C++, making it easier to learn to program. Finally, Arduino provides a standard form factor that breaks out the functions of the micro-controller into a more accessible package.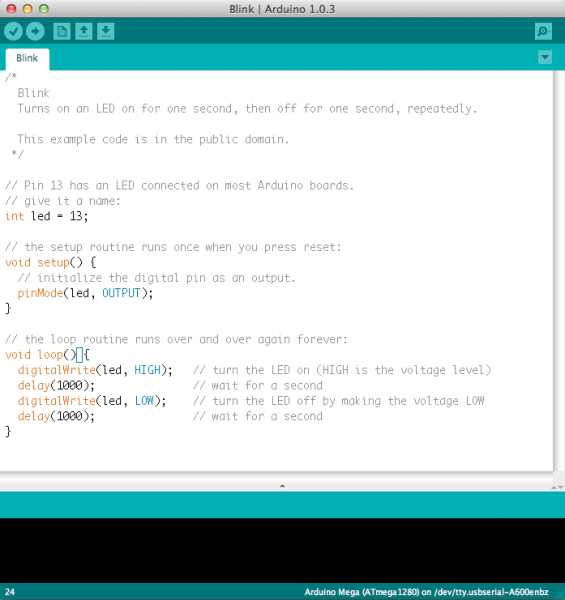 Arduino Based Home Automation: The Arduino controller is used to control the home appliances, without any wired connection. ...
Arduino Based Wireless Power Meter: The Arduino based wireless power meter is to measure the number of units of power of an acceptable range.
Buy Arduino Uno R3
Buy

Arduino Uno R3
Latest Arduino Projects
DIY Arduino powered GoPro Panning Rig:This is a demo and overview of my Arduino powered camera panning rig. It used a Arduino Uno, LCD button shield, 5v Stepper motor & driver and a bunch of misc hardware.
Smart Sock Augments Existing Prostheses' Abilities:The prosthetic limbs available today are lack of sensation. Many researches were going on about this. This project describes the development of smart prosthetic sock that has ability to sense, i.e. it can tell about pressure applied, foot it is being touched etc.
Shining Back Live Set Blows Your Mind with Light and Sound:Shining back is a grid structure having leads that switches to the Duo's live rhythms. This application runs on Arduino UNO and uses Mad mapper, module8 software.
The Gooniebox Challenges Guests to Solve Its Riddles:Here a puzzle box is designed by using the Arduino board for the entertaining the guests. The participant must unlock the treasure box present at the bottom by pressing the button and other interactions.
Cutting Cable with Scissors and Arduino:An automatic cable cutter at very lost is designed here. Manual cutting of this wire is time taking as the business grows, but at the same time industrial cutters are very costly. Here 3D printed wires were used for feeding the wire to the scissors.
A DIY Autonomous Ford Focus… Or Is It?:This projects gives a demo on automation of ford focus car. This system uses five cameras, ultrasonic sensors and Arduino. Each camera has its own Arduino board. All these are connected to a master system. Inside the car micro view is connected to ensure that this is working fine.
Flip frame Is a Rotating Digital Picture Frame:Here a rotating digital picture frame is designed from the discarded LCD TV. This uses raspberry pi and the Arduino. Raspberry pi is used to display the images sideways and Arduino is used to flip the screen.
Square Off Is a Chess Board with A High-Tech Twist:The chess board designed here allows you to play the chess on board with anyone in the world. This is a smartest, connected chess board. It is designed using Arduino as its core.
Self-Driving Tricycle:The self-driving tricycle drives itself by a command without control of the operator. Use of tricycle reduces our dependence on fossil fuels.
Collector is a Kind of Reality Re-Mixer:The system proposed here collects the loud sounds from its surroundings and plays them back by eliminating the silence. It plays the sounds in the order it has collected. This system also had a rotating robotic stereo microphone.
Ping Pong FM:A fun musical game is designed in this project. The ping pong FM is a table tennis played per the song played. Players can choose their own song. If the ball is missed, song slows down automatically.
Check the Traffic Autonomously On a Modified Clock:This project shows a smart wall clock that shows the traffic intensity on the roads. This clock consists of 12 RGB LEDs which turns red when the traffic is heavy and green when traffic density is low. These LEDs were controlled by the Arduino Uno board. The Arduino 1sheeld connected to the smart phone acquires the data about traffic from the internet. Accordingly, LEDs were switched.
Galaga Revived as a 4/5 Scale Mame Machine: Galaga MAME arcade machine is a game built using raspberry pi and MAME software. This project shows the building of this machine using an old CRT. An automated remote control is designed for this using Arduino and IR LEDs in order to switch it on and change from TV to AV mode.
A Sheet Metal Arduino MP3 Alarm Clock: The alarm clock shown in this project is equipped with Arduino, MP3 player, RTC. It is using a 3.2 inch touch screen display. This set up is placed in a metal sheet. It plays the music and shows the current song and time.
Build Your Own Electronic Drum Kit Using an Arduino Mega: This project shows building an electronic drum kit using Arduino mega. The nine-set drum kit shown here is build using readily available components.
Electro Pollock: The "Electro Pollock" is a special drawing machine that activates according to the music played. Music is analyzed by an algorithm that activates the servo motors with brushes, fan to spray the painting, electrical valves.
Arduino Thumb Piano: The Arduino thumb piano employs Arduino Uno, some metal rods and accelerometer. A beautiful music can be played from this instrument. It is named as kalimbo.
Electronic Message in a Bottle:This project shows building a circuit inside the bottle using LEDs. The scrolling message is displayed in the bottle. Here is how one can build a circuit inside the bottle.
LCD with DS3231 Real Time Clock Module: This project gives the description of Clock using RTC and Arduino. Here DS3231 is used. RTC can count the time and date even in the absence of power.
Smart Gaming (Ensorinstituut): Smart gaming is very useful to control the children from playing games for long time. Time for which a child can play a game is set. If the time is reached screen is becomes invisible and game stops automatically. A notification message is sent to the parent indicating the time ,when their child started playing the game.D25
Food Detector: The proposed project detects the food. Generally, the types of food are detected by measuring its resistance. Name of the food is displayed on the LCD.
Sigfox Talking Plant: The talking plant is designed such that it speaks on the twitter. Sigfox is a network that connects the plant to internet. One can monitor the messages from the plant in the internet.
The Traffic Light: Traffic lights are designed using Arduino in this project. In this project Led lights were used as traffic lights. The sequence of lights is processed by the Arduino.
The Inventive Toothbrush: A smart brush which sends a notification to parents when brushes his/her tooth is explained here. This inventive brush plays a pleasant music, when child is brushing. It also gives some instructions for a good brushing behaviour.
Singing Arduino: This project consists of an Arduino playing music. A web page is present in which one can select the songs to be played. Time can also be set to play the song at particular time.
Smart Plastic Container: Smart plastic container monitors the stock kept inside it. It sends a notification to the user using it. It also updates the same in the web page.
Add a $15 Display to the Raspberry Pi: This projects shows how to connect a OLED display to the raspberry pi. Raspberry pi is a mini computer; it is sometimes requiring display connected to it.
Transport checker (Ensorinstituut): Transport checker will send a notification to the mobile which is connected to the public transport network. Details like bus number, time of arrival etc. were sent to the user mobile.
DIY Flight Instruments for Horizon and Compass: Motion sensor MPU6050 is visualised by using a flight simulator in this project.
Excel Arduino Remote (Proof of Concept): This project shows the concept of connecting Arduino to the excel sheet. A step by step procedure is explained here.
Free Parking for You (Ensorinstituut): This system designed here shows a free parking spot in an area. It also sends a message if the spot is occupied.
Arduino Clock with Neopixel Ring Animation: The project shows the Arduino clock using RTC IC. Time is displayed using a neopixel ring. Neopixel ring is beautiful arrangement of leds.
Eggzact Science: This system can be used in modern egg farms. Eggs laid are passed through a sensor. The sensor detects these eggs counts them. This data is updated on the web server.
Arduino UNO Guitar Pedal: The idea here is to create a guitar pedal and create your own digital sound from this without knowledge on DSP processor.
Intelligent Charger for 9V NiMH Rechargeable Batteries V1: An intelligent smart charger that charges the 9vNIMh battery is proposed here. The charger can automatically, stops charging when battery is fully charged.
Doorbell: Doorbell shows the connecting of a device to the cloud. Door connected to the cloud can be operated from anywhere. The transmitter actually opens door while the receiver rings and is used to open the door.
The Train of the Future: This is prototype of future train. Trains in future will give the information like their location and only authenticated passengers were allowed into the train. The same is explained in this project.
Sensal – All Senses Alarm Clock: Instead of an alarm clock that produces ugly sound ,an alarm which awakes you with pleasant fell was developed. This is called sunrise alarm. The alarm switches on the LED light instead of sound.
Build a Simple Cocktail Drinkbot with Arduino :Here is a robot that can make cocktail using arduino is shown.
Arduino running 600 Pixel NeoPixel LED Panel : Here is the 600 pixel neopixel Led panel running using arduino UNO.
Arduino Sensors Projects
IOT Projects Using Arduino
Arduino Medical Projects
Touch Up Control Hospital Bed from iPad: This touch up control hospital bed is controlled from iPad, by using Arduino. we can move the hospital bed up and down and can adjust the height level by pressing the buttons in ipad, instead of pressing the physical buttons.
Arduino Wireless Projects
Arduino Bluetooth Projects
IMU to You!: Inertial measurement unit is nothing but measurement of Agular rate, specific force, magnetic field etc. This project describes the measurement of these data and transferring to the mobile device via Bluetooth.
Arduino Bluetooth Basic Tutorial: Interfacing of Bluetooth module to the Arduino is explained here.AN example controlling an Led sing blue tooth is shown in this project
Arduino Bluetooth Android to Arduino Communication: This project is based on both the android and Arduino, which lets you to control your Arduino kit by using the Bluetooth of the android smart phone. To communicate with the Arduino, android need an interface, Android. By using this interface, android sends the text commands to Arduino.
Arduino Home Automation Projects
Build an Entire Home Automation System with a Raspberry Pi and Arduino: This project shows the home automation system built using Arduino and raspberry pi. Several sensors were used for monitoring the various parameters in home.
Gestured Controlled Smart Home: A gesture controlled smart home system is proposed here. This project uses Mayo for detecting the hand gestures. These gestures are used for controlling the appliances.
Non-Intrusive Elderly Smart Home (NESH): The proposed project monitors the smart homes with elderly people. Homes are fitted with different sensors. Data from these sensors like when they woke up, medication taken etc. is sent to the relatives or guardians.
Control your Light System Using Smart Phone: Smart homes are increasing these days. The proposed project controls the home appliances using smart home. Arduino plays a key role by processing the data.
RF Based Smart Home Automation System: This project explains about automation of home using the RF. Arduino is used to proceeds the data received from RF and control the appliances.
Gas Detector / Indicator (USB Powered) With Arduino: This Arduino project is of home automation and safety. In this project we design an instrument to detect the presence of gas by using a sensor and we indicate it by using a 7 segment LCD display. The gas detection and indication operation is achieved by an Arduino.
Arduino Security Projects
Arduino Quadcopter Projects
Arduino Based Quadcopter: With Arduino, we can design a quadcopter also. We can control the quadcopter by remote. The quadcopter uses the servo motors at its rotors and by controlling the motors we can control the speed of the quadcopter.
Open-Source Quadcopter: In this project we design an Arduino based open source quadcopter to navigate and provide the dangerous areas such as war fields. This can be used for the surveillance of the situations and also to send the information to radio stations without putting any human in risk.
Arduino Based Flight Controller For Quadcopter: In this project, we use Arduino to control the speed and altitude of the quadcopter. For this, it uses the Arduino flight controller board along with various sensors, such as gyro scope and accelerometer. We may provide additional sensors to hold the altitude level of the quadcopter.
Arduino RFID Projects
RFID Access Control System: RFID based access control system is a home security project based on Arduino. it provides security to the home or offices based on the authorization of user's identity. The authorization is provided by the RFID card.
RFID Cat Door: This project lets us to control the pet cage door. The whole process is controlled by an Arduino. The cage door will open only when the pet wears the appropriate RFID tag. Using this Arduino project, we can protect our pet from other animals.
Arduino Laser Projects
Miscellaneous
post by sujeet kumar
listing by many projects