Best Adobe Photoshop Alternative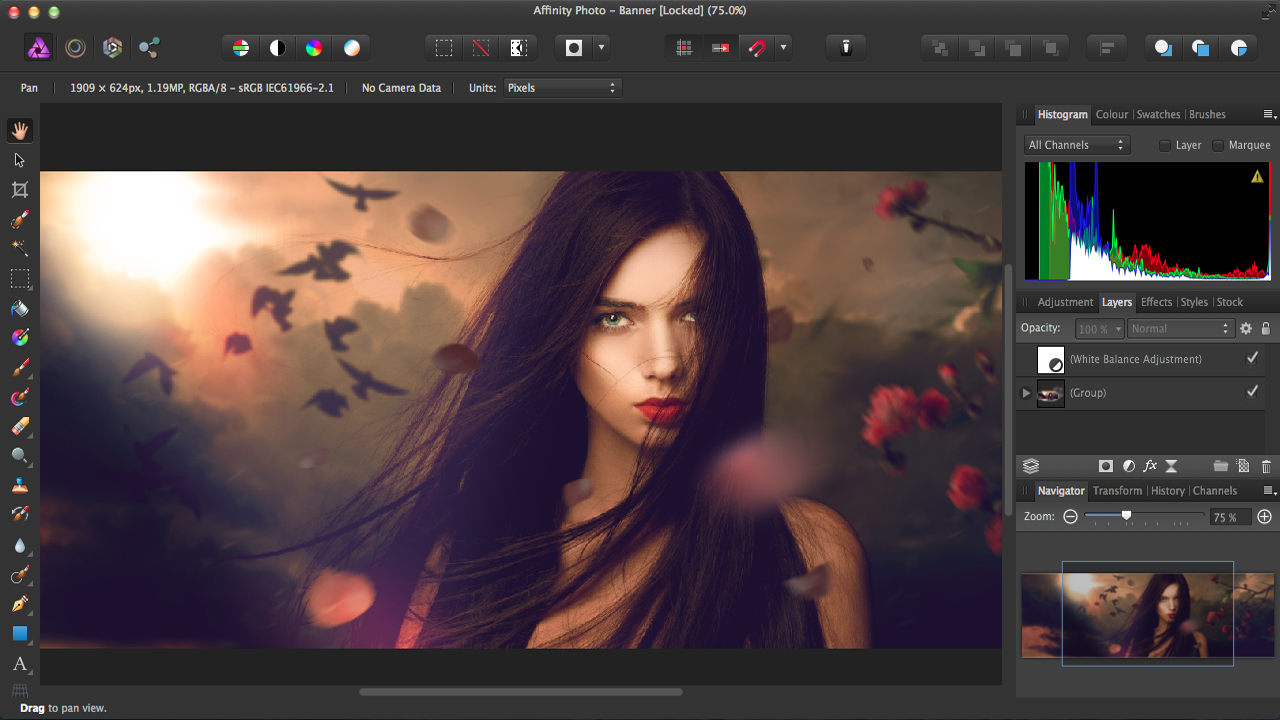 photo from techrader
Platform: Mac, Windows, iPad
Price: £48.99/$49.99 (one-off payment)
Serif's Affinity Photo started creating a stir in the creative community almost the moment it was released, and it's perhaps the most serious Photoshop alternative we've seen to date.
Fully compatible with Photoshop and other file formats, it's aimed squarely at professional photographers and designers, and although Affinity Photo is hugely cheaper than Photoshop (with no subscription), its creators argue it's actually better, promising higher speeds, fewer crashes and unlimited undos. In truth, the amount of improved performance you'll get will probably depend what equipment you're using (it's been specifically designed to take advantage of the latest quad core technology).
Originally Mac-only, Affinity Photo is now available on Windows, and in summer 2017 Serif also launched Affinity Photo for iPad. Anyone looking for an alternative to Photoshop, Affinity Photo is definitely worth investigating. You can find out more about the features and capabilities on Affinity Photo here.
'GNU Image Manipulation Program', or as it is widely known as – GIMP is the best free alternative to Adobe Photoshop you'll ever stumble across. With a widely supported community and with its cross compatibility over a range of operating systems, GIMP clearly stands out as the best free alternative to Photoshop. Although it doesn't offer quite a features like Photoshop, it possess ample features to let you edit your photos in a breeze and with a stint of professionalism to it.
Supported Platforms: Windows, Mac OS X, Linux, BSD, Unix, SkyOS
Key Features: Layers, Selection editing, HDR, Re-touching, Noise removal, Lens and Colour correction, Sharpening, Plugin support, etc.
Supported File Formats: RAW formats, BMP, GIF, JPEG, PNG, TIFF, PSD, etc.
Price: Free
If you have ever used the default Windows Paint, you'll be much familiar with Paint.NET. This tool was originally developed to be a more advanced version of Windows Paint, and it does inherit many features from the nifty default Windows program. The tool is less powerful than GIMP or Photoshop, but it takes well care of all the basic features you would ever require in an image editing tool. You can also extend the functionality of this tool by installing the plugins developed by the vast community supporting this platform. If you want a less-cluttered and more 'humanly' photo editing interface, Paint.NET would just be the right fit for your needs.
Supported Platforms: Windows 7 or Later
Key Features: Selection editing, Layers, Histogram, Retouching, Resizing, Noise removal, Sharpening, Colour correction, Plugin support.
Supported File Formats: RAW files, BMP, JPEG, GIF, TIFF, PNG.
Price: Free
Krita has won several applauds for being one of the best image editing tools, based for the open-source platforms like Linux and Unix. The tool comes as a bundle with the KOffice suite and is a great choice for all your image editing needs on an open-source platform. Although lacking in quite a few departments when compared to Photoshop or GIMP, this free tool is in it own rights makes up for one powerful image editor.
Supported Platforms: Windows, Linux, BSD, Unix.
Key Features:
Supported File Formats: Any Windows-compatible media format
Price: Free
Platform: Browser or iPad
Price: Free (basic), $4/mo (Pro)
Some tools work in different ways to Photoshop, offering possibilities that would be difficult to match in Adobe's offering. There are, however, limitations that will put off some users.
some listing from other website but not copy
by sujeet kumar