How You can Buy Any smartphone on Flash Sale
The flash sale trend has become quite popular among several smartphone vendors in India, but it also leads to chaos for the buyers. In order to overcome the limited stock issues, companies chose to bring limited handsets on a particular day of the week.
The "online only" sales make the handset's price quite appealing, hence attracts a large number of shoppers. As a result, the stock vanishes in a matter of seconds, at the most a few minutes.
Flash Sale Tips and Tricks
is important to remember that participating in a flash sale requires you to register in advance. Also, it is worth noting that different smartphone companies choose different days to conduct their exclusive sales.
Sometimes handsets can be available only on specific retailers such as Amazon, Snapdeal and Flipkart. Let us first take a look at the tips and tricks around a flash sale before moving on the different smartphones and their sale timetable.
Trick to buy smartphones on the Flash Sale for smartphone user.
Just be alert and follow these simple steps.
Sometimes handsets can be available only on specific retailers such as Amazon, Snapdeal and Flipkart. Let us first take a look at the tips and tricks around a flash sale before moving on the different smartphones and their sale timetable.
Choose your preferred handset and the time when it goes on sale through online retailers.
Every flash sale begins at a specific time, so it is important you are logged in to your accounts minutes before.
For instance, if the sale is scheduled to go live at 12 noon on Flipkart, Go to its sale page a few minutes in advance.
By getting on the Flipkart sale page early, you will be able to log in to your account, add shipping address and check for your internet connection.
On the sale day, watch the countdown on the site that tells buyers how much time is left before placing orders.
Keep a close watch on the countdown and refresh the webpage in regular intervals (every 10 seconds).
Once the countdown reaches 10 seconds, refresh the webpage every 2 seconds and stay updated with real time stopwatch.
Once the countdown stops, click on the Buy button, which will appear in the same place as the countdown watch.
Once you have added the device to your cart, proceed to check out by choosing the preferred mode of payment.
Delaying checkouts may result in losing the handset as the cart gets emptied every hour or four hours.
In case you miss, try joining waitlist, which is an option on Amazon. If there is no such option, you must wait for another day.
How you can Buy Redmi phones on computer
Step 1:
Sign in to Flipkart and navigate to 'My Profile'. There make sure you have entered your email-ID. The next step is to select the address you want your phone to be delivered to the default address.
Note- Since the Cash-on-Delivery option is not available for these sales we would be using Gift Cards as a mode of payment. Cash on Delivery has been removed to reduce reselling of the smartphone in the local markets. Users can also opt for other payment methods like Internet banking or credit/ debit card. In this article we used the Gift card method, which we tried and tested several times during the flash sales. So, without further ado, let's begin.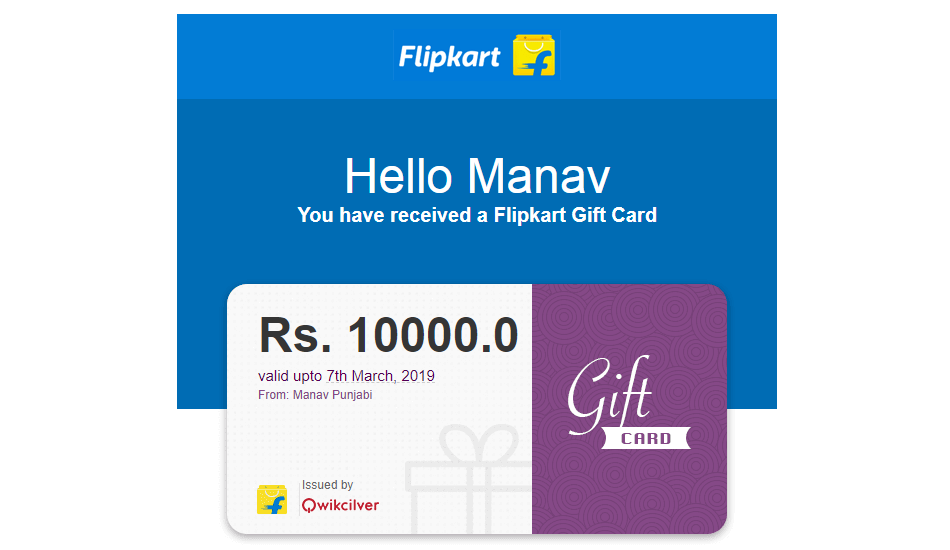 Step 2:
Next, go to My Profile> Payments> Gift Cards.
In the buy a Flipkart Gift Card section. Enter your Email-ID (the one which is registered with Flipkart) in the Receiver's Email ID. Enter your Name in the Receiver's Name. If the phone you are buying is above ₹ 10,000 you will need to buy multiple Gift Cards. In this example, we will be buying a Redmi Note 5 Pro (4GB/64 GB) version worth ₹ 13,999. Since you can only buy a Gift Card of ₹10,000 maximum. You will need to buy another 2 Gift cards worth ₹2,000 each.
These Gift cards are sent on the Email-ID entered by you. The next step is to complete the payment process by using any of the payment methods available to you. After the payment is successful you will receive an Email containing the Gift Card number.
Go to your Email and add the Gift Cards to your Flipkart Account by following the link sent to you. Now you have to confirm if you want to add the Gift Card to this Flipkart account.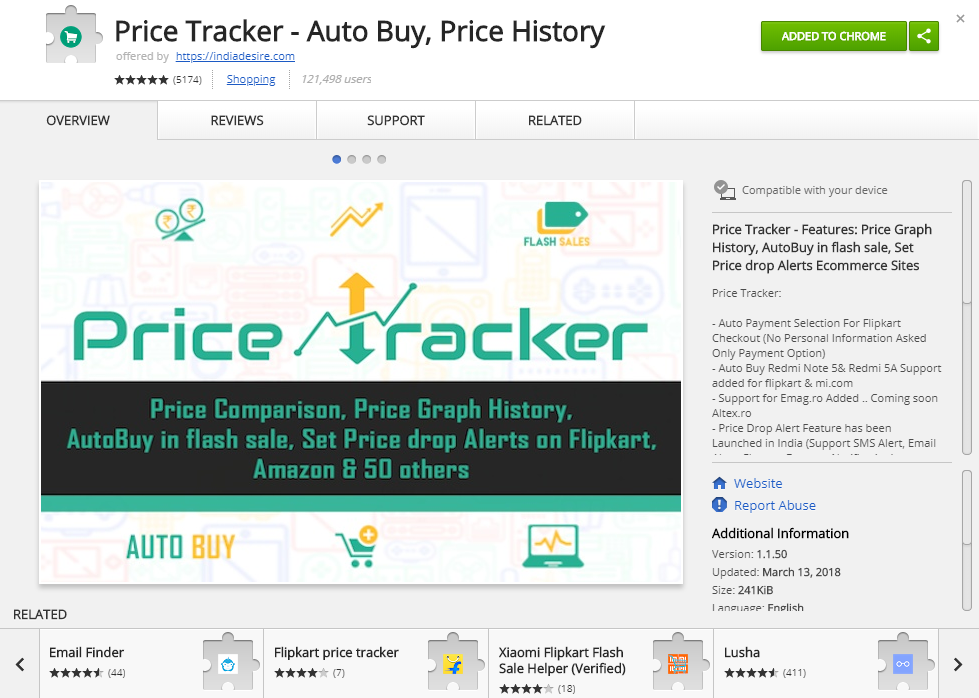 Step 3
The next step is to download and install this extension on your Chrome or Firefox browser.
Price Tracker - Auto Buy, Price History. This extension would help you to add your desired phone in your cart easily.
Step 4
On the day of the sale open Flipkart. Make sure your cart is empty. On the top right of your browser, you will see the icon of the extension we installed. Select Auto-Checkout and Gift Card as the mode of payment.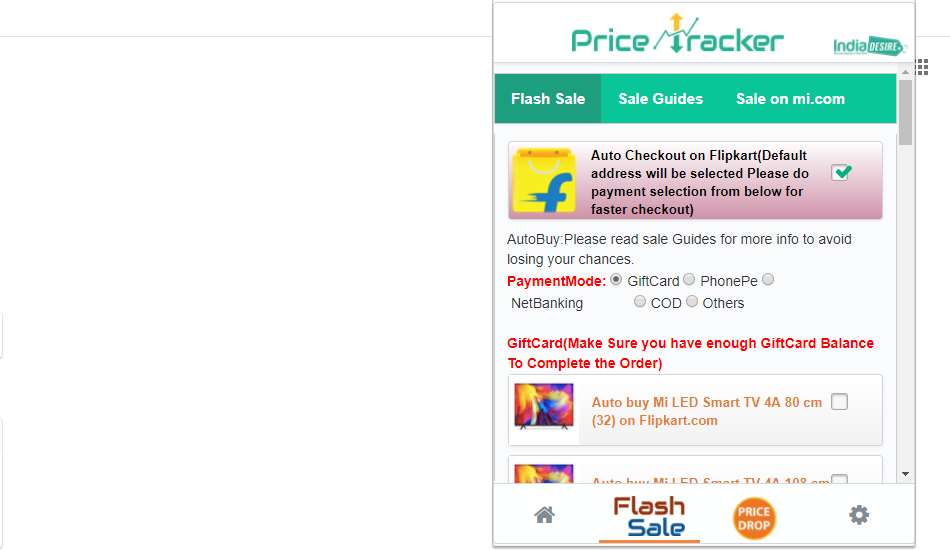 The next step is to select the phone you want to buy from the list below. At noon the extension will automatically reload the page and try to add the phone to your cart.
Once successful you will just have to select the Place Order button on the final checkout page to order your phone.
By sujeet kumar
Credit-
mi.com