IGTV Vs YouTube
Since it was
acquired by Facebook in 2012, Instagram has grown to more than
five times the size
of Snapchat. Now, it's coming after YouTube.
Read also..
On
IGTV
, long-form vertical videos can go as long as ten minutes (previously, Instagram videos were limited to one minute). Instagram is making some exceptions for creators with massive audiences: They can post up to 60 minutes of video.
IGTV
videos will all be prerecorded, not live, although Instagram product manager Ashley Yuki indicated that live video is something the company will be looking at in the future.
Unlike the main Instagram app, which shows video "Stories" as bubbles at the top of the page and displays uploaded videos as part of the regular feed,
IGTV
videos will appear as a series of rectangular thumbnails at the bottom of a creator's page. Once you tap on one, the video goes full screen. On the lower left-hand corner of each video are the same three icons you see now on Instagram: a heart, a comment bubble, and a share tool. Tap on those for the same functionality as on the main Instagram app.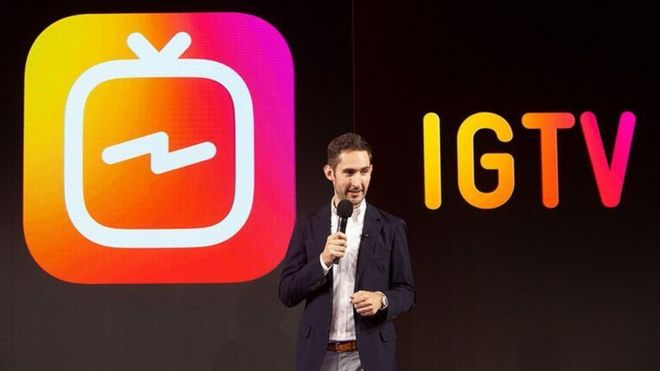 If you ask which is best platform for YouTube creators, in 2018 YouTube is Best platform For creators but in future
IGTV
is biggest competitor to YouYube
Instagram has revealed it now has 1 billion users worldwide since it first launched in 2010.
It also announced plans to launch a new app, IGTV, designed to show longer videos of up to one hour.
The app will launch sometime in the next few weeks for Android and iOS and is meant to compete with YouTube.
From both a consumption and a content-creation perspective, IGTV is going directly up against YouTube, which just announced it has more than 1.9 billion monthly logged-in users, and is already well established as a place for creators to distribute long form video. Instagram hopes the platform will be used by already-popular creators, like former Vine star Lele Pons, who has more than 25 million Instagram
followers
and who also appeared on stage at Wednesday's event. The app is launching with a group of pre-selected video stars, including publishers like
National Geographic
, which has more than
88 million followers
on Instagram, and brands like Benefit cosmetics. But it will be open to anyone who uses Instagram over the coming weeks.
Also like TV, IGTV has channels. But, in IGTV, the creators are the channels. When you follow a creator on Instagram, their IGTV channel will show up for you to watch. Anyone can be a creator — you can upload your own IGTV videos in the app or on the web to start your own channel.

Top 5 Best Video Creator Platform On Internet.
If you Like this post the comment down below and And follow Mystery Techs.
By sujeet kumar
Credit:- Instagram ,wired ,google