Most Addictive Games For Android
We are going you to share the best addictive games of all time, You can have a comprehensive look through the list to know more about the updated and the most addictive games. These are the games which are frequently getting fame over past few times.
Between mastering the game and trying to get the high scores, a person can sink into a game for hours without realizing it. There are tons of addicting games on Android. Unfortunately, they're not all equal. Here are the most addictive games for Android!
We highlighted the Most Addictive Android Games in 2018 and we've done it every summer since. Now we have 7 more addictive games for 2018. These games will test your patience, reflexes, and competitiveness. Your phone is going to get hot and your battery will scream for mercy. Let's get downloading!
7. PUBG Mobile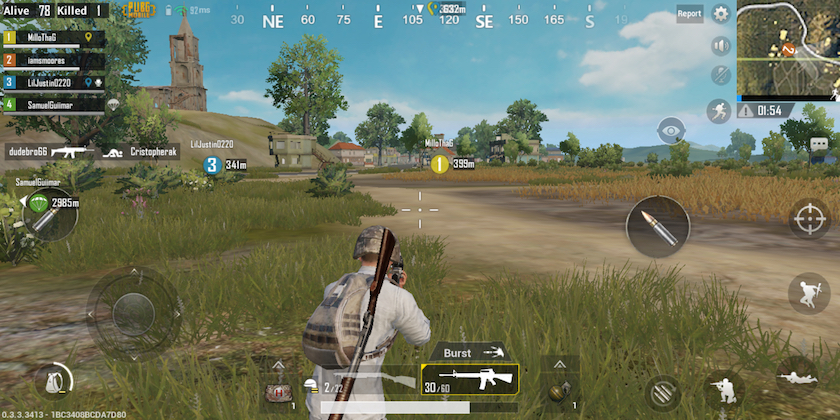 PUBG Mobile hasn't been out globally for long. However, it's already one of the most popular mobile shooters available. It features a 100-player battle royale on a small island. Players collect gear, weapons, and vehicles on the island and battle it out. The winner is the last person standing. It also includes mechanics like a shrinking play area to keep games from going too long. There are a few glitches and bugs. However, none of them are overly bad. Recent updates added some new game modes as well as a freemium price tag. Its FPS mechanics are also above average for its genre.

6. PinOut
PinOut is an arcade pinball game. It also has infinite runner elements. Your goal is to launch the ball pinball style on and on for as long as possible. It's bright, colorful, and it'll keep you going for a while. Unlike most pinball games, this one has a single price with no additional in-app purchases. That means there won't be any freemium mechanics getting in your way. Those who like the style but not this particular game can also try out the game Smash Hit by the same developer. It's also a pay-once infinite runner with some fun mechanics.
Pinball reinvented by the award-winning developers of Smash Hit and Does not Commute! Race against time in a continuous journey through this mysterious canyon of pulsating lights and throbbing retro wave beats. The classic pinball mechanic remodeled into a breathtaking arcade experience.

5. Orble
Orble is a tricky game that requires good hand-eye coordination. You are the gray ball. The goal is to avoid the red balls and collect the green balls. You do this by hopping between the orbits. The real difficult part is that the orbits move at different speeds and directions. It takes great reflexes and skill to survive as long as possible.
What makes it addictive?
Orble takes great reflexes to survive for a long time. It seems like an easy game, but the varying speed of the orbits makes it deceptively difficult. You can be doing well and then all of a sudden one false move ends the game. All you can do is play again.
Think you've got hand-eye co-ordination? Well, think again! Put your reflexes to the ultimate test!
Challenge yourself in this minimalist reflex-based game. Simple yet mercilessly difficult to master!
The rules are simple:
• You are the Gray ball.
• Avoid the Orange balls.
• Collect the Green ball.
Jump across the 4 orbits to survive:

4. Asphalt 8: Airborne
In Asphalt 8, you'll race in some of the hottest, most high-performance dream machines ever created, from cars to bikes, as you take them on a global tour of speed. From the blazing Nevada Desert to the tight turns of Tokyo, you'll find a world of challenge, excitement and arcade fun on your road to the top!
Asphalt 8 had changed the entire car racing game experience on Android platform. The game features some mindblowing graphics along with the stunning music. You need to race over various tracks to reach the next level.
REAL LUXURY DREAM CARS & MOTORCYCLES!
• Over 220 high-performance cars and bikes for you to drive and push beyond their limits.
• Top licensed manufacturers and models, such as the Lamborghini Veneno, Bugatti 16.4 Grand Sport Vitesse, Ferrari LaFerrari, McLaren P1, Porsche 911 GT3 RS, Ducati Monster 1200 and more, including a selection of racing motorbikes!
• Newly recorded high-fidelity motor sounds for realistic audio immersion.
• Customize & upgrade your rides with over 2,300 decals to take down your opponents with style!

3. Injustice: Gods Among Us
This is a free game and it's addictive too. However, this games requires demands higher RAM and GPU compared to other games. Users need to build an epic roster of DC superheroes and villains and get ready for battle.
Build an epic roster of DC super heroes and villains and get ready for battle! INJUSTICE: GODS AMONG US is a free-to-play collectible card game where you build a roster of characters, moves, powers, and gear and enter the arena in touch-based 3-on-3 action combat.
FIGHT
Use the touch screen mechanics of your mobile device to battle your enemies in 3-on-3 action combat. Swipe and tap to perform combos and build your power to pull off special attacks and super moves taken straight from the console version of the game.
LEVEL UP
Build your move set, increase your powers, upgrade your characters and gear, and beat your competition. Constantly evolve your card collection to fit your style of play and put your best team forward as you take on a series of DC super hero and villian combatants.z
ONLINE MULTIPLAYER
Take on real opponents in Online Multiplayer Battles. Compete against players worldwide on the leaderboards, and in tournaments filled with awesome rewards. Watch replays of your previous offensive and defensive battles to hone your skills and your team lineup. Lead your team to victory!

2. MORTAL KOMBAT X
Experience the over-the-top, visceral fighting of MORTAL KOMBAT X!
Bring the power of next-gen gaming to your mobile and tablet device with this visually groundbreaking fighting and card collection game.
Assemble an elite team of Mortal Kombat warriors and prove yourself in the greatest fighting tournament on Earth.
BRUTAL 3 v 3 KOMBAT
Create your own team of Mortal Kombat fighters and lead them into battle to earn experience, new special attacks, and powerful artifacts.
MASSIVE ROSTER OF FIGHTERS
Collect Mortal Kombat veterans like Scorpion, Johnny Cage, Sub-Zero, Sonya, Kitana, Ermac, and many others. Discover the newest additions to Mortal Kombat such as the insect-like D'Vorah, fiery Cassie Cage, bloodthirsty Kotal Khan, and the mysterious Kung Jin.

1. Vector 2
Vector 2 features intense gameplay with procedurally generated environment and lifelike animations in a dystopian world.

RUN FOR YOUR LIFE
Descend through a huge and complex research facility and try to get out alive – over and over again.

GEAR UP
There's no good run without good equipment! Try out experimental high-tech gear that will help you survive a little longer and discover ways to upgrade it.

ADD STYLE TO YOUR SKILL
Learn stunts to dodge deadly traps – and do it in the most badass way ever possible.