Best Adsense Alternatives
The AdSense alternative ad networks mentioned below are
not necessarily better
than Google AdSense, but depending on your blog niche and site's traffic, a few AdSense alternative programs (like Media.net or Viglink) might give you
better earnings
and results than AdSense.
That been said, There are lots of bloggers out there that get rejected from Google Adsense each and every time they apply for an account; mostly because their blog does not meet Adsense requirements and may be violates Adsense T.O.S. If you are on of those bloggers, then you will find this list of Adsense Alternatives helpful helpful.
PropellerAds is one of the top performing ad network and something I love because of their technology innovation. Apart from all usual ad types, recently they added web push notifications ad type.
Depending upon kind of blog that you have, you can pick from various ad types offered by PropellerAds. Be it for your desktop site, mobile site or for video content. Minimum payout is $25 and it's idle for every new and medium size blogs with low or high traffic.
Right now, the best AdSense alternative available in the blogosphere is
Revenue
Hits. It's a performance-based ad network that helps you earn money by CPA (Cost Per Action) based system. It's an advertising pricing model where the advertiser pays for, when a visitor delivers for each specified action such as registering to their site offers etc.
Revenue Hits has the vast inventory of ads comprised of effective text and display ads that promotes performance based offers. By providing these kinds of proven ads, this AdSense alternate helps you increase revenue and improve their bottom line. Revenue hits is a top alternative to AdSense ads for sites with Indian and western traffic both.
Offering intriguing ad formats, Bidvertiser has helped many web based marketing firms to ensure the success of their blogs and websites. The best part about this adsense alternative is their free design format, which lets the web designer specify the look and text of the ads without any hassle. You will also find that Bidvertiser also supports XML feeds and Pop-under ads, which creates a beneficial loop for the web based marketing firm.

In order to attract higher paying ads, you will have to build your site up so that it will generate more quality clicks for the advertiser. This will entice them to bid higher for your ad space. Although this is a good network for beginners, it makes it difficult for publishers with new and developing sites to make a meaningful amount of revenue because of this.
If you stick with the network; however, you should see the bids slowly increase for your ad space. Advertisers prefer established sites over new ones and are always willing to pay more for that kind of ad space.
Now, it is normal that you will pay for CPC to Bidvertiser for every valid click. However, every time a consumer clicks on your ad, Bidvertiser will track those clicks and turn them into valid leads. This actually provides considerable revenue earning for the publisher.
This adsense alternative works by monetizing your keywords. It also help you convert these links to different affiliate links. They are able to pick up the regular links in your content and redirect them to various types of affiliate links through their servers.
Their servers are also able to take different keywords from your content and convert them into affiliate links, which ensures better revenue generation for the publisher.
VigLink is one of the best ways to monetize your blog. VigLink works in a very different way than other blog monetization programs. VigLink converts your normal
outgoing links into affiliate links
, and if users make a purchase, you earn a referral commission from it. The best part is that you don't need to be signed up for an individual affiliate account on all networks. Viglink tracking takes care of all of them!
For example, if you have a tech blog and you write about iPhone and iPad apps, VigLink will automatically convert those outbound links into affiliate links. When you would typically make no money for such links, with Viglink you will be earning money whenever somebody buys a paid app from the app store.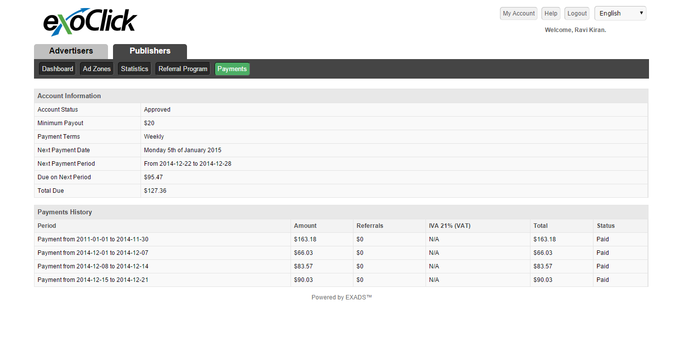 ExoClick is one of the largest Advertising Network in the world. They are serving more than 100 billion geo-targeted monthly ad impressions. It provides CPC as well as CPM-based Ad Types for publishers and advertisers. They have one of the highest CPM rates in the industry. Their CPM rate can go up to $2 per 1000 impressions while CPC rate is more than $0.10 per click.
The payment options include Paypal, Payoneer, and Wire Transfer. Their minimum payout threshold is $20. It uses Net-7 payment option, so payments are made fast. It has a huge advertiser and publisher inventory for various niches. It serves clean, high quality and geo-targeted ads. Its support is quick and reliable.
Pros:
near to 100% fill-rate

clean ads, no malware and viruses

weekly payments

probably the biggest inventory for adult traffic

good and stable CPM rates
Cons:
tech support only by email

not very good CPM for Asian countries

works mostly with adult websites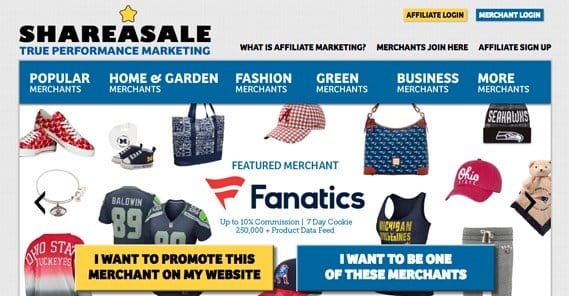 ShareASale is a leading affiliate marketing network that pays you for promoting the products registered with them. It is a great alternative to Google Adsense if you want to earn from your blog quickly. It provides a huge range of affiliate offers, so you get a good choice of products and can pick and promote those that suit your blog audience.
ShareASale is a fast, accurate, and efficient affiliate marketing network. It supports merchants and affiliates alike in boosting their incomes, whether on the domestic plane or in the international market.
With ShareASale, customers can look forward to a platform that helps them grow. The solution has a support team that is commended by both vendors and affiliates alike for their assistance in all aspects.
Moreover, ShareASale is equipped with advanced technologies that allow users to track clicks in real-time and organize their data. This way, they can connect every fact of their affiliate marketing strategy. This allows for boosted productivity and enhanced efficiency in terms of handling affiliate tools like links and tapped earning opportunities.
It allows you to sign up for almost any product you want. It provides pay per sale as well as pay per lead programs. It is suitable for wide range of blogs in varied niches such as clothing and fashion, food and fitness, technology, blogging, books publishing, dating, weddings, etc. It runs an easy signup process, and approval is pretty quick. The minimum payment threshold is just $50 which can be easily attained. It makes payment on 20th of each month.
While the AdSense-deprived website owners may be flocking to alternatives, the thing about Chitika is that you can use it alongside other ad networks. It is also considered one of the best ad networks for adsense banned sites. Approval can take a while (it may take up to a week), but then you only need to have one of your websites approved. After you obtain the approval for that one website, you can then use Chitika for any of your other websites. You can also resize mobile ads to make it easier for you to generate income from mobile traffic.
Chitika provides much the same service as Google AdSense. In fact, it's one of the most popular alternatives. Though it's hard to beat such an established front runner as AdSense, Chitika gives it their best shot.
So what makes Chitika stand out from the pack? In addition to its ease of use and excellent customer support, their ads are driven by each visitor's search queries. Most display advertising networks, including Google AdSense, display ads driven by the content on each given webpage.
Chitika gives you several distinct advertising options to choose from. These include display/text ad units, list units, and mobile ads. Though this doesn't give you a whole lot of variety, it does provide the staples for a successful campaign.
Sound like a service that could benefit your business? Chances are it can. Use it alone or complement it with another advertising display network (like AdSense) to monetize your web content and make some extra money.
Infolinks is considered as the best inText Advertising network for small publishers. It finds relevant text in the content and converts them into ad links. Since it offers completely different types of ads, I recommend you to use it with other ad networks like adsense, revenuehits etc. You do not need to have a lot of visitor on your blog to get approval from infolinks. Usually they take 2 days to review and approve a blog.
To be honest, it's the best alternative to Google Adsense and does not have strict policies like Google Adsense does. Compared to Adsense, it's easier to get approved by Infolinks and always works on benefiting the publisher by bringing in new ideas and methods to increase publisher's revenue.
Infolinks is a CPC and CPM based advertising network and offers in-text, in-frame, in-tag and in-fold ad types. Publishers have the full control on what types of ads can be displayed on the website.
It provides you more power than Adsense itself. If you have many websites, you can monetize all of them with Infolinks once your one site gets approved.
What you saw above was an example of in-text advertising. Listed below are the other types of ads from the stable of Infolinks.