5 Best PUBG Like Battle Royale Games for Android
Battle royale games are all about primitive pleasures: exploring virtual islands, scavenging for supplies and murdering random strangers, and these things have turned out to be a great fit for mobile.
Since PUBG and Fortnite parachuted onto phones and tablets, players have revelled in the opportunity to kill rivals from all over the world, from anywhere in the world; but fans of the genre shouldn't stop with them.
These are the best PUBG style battle royale games for Android and iPhone. As you probably know, PlayerUnknown's Battlegrounds, aka "PUBG" is an extremely popular last person standing type game. And even though an official PUBG Mobile is available, you'll want to try these other adrenaline-pumping alternatives.
However, they are not for everyone. Both games have long play times with a fairly simple premise. Some players may want to try something else in the genre. We can help with that! Here are the best free battle royale games on Android right now. We intend on adding games like Brawl Stars and H1Z1 when they become more widely available.
5. Rules of Survival
Rules of Survival is another PUBG clone with a lot of the same elements. You drop in from an airplane, find stuff, and kill people as per the norm. This one has some additional weapons, vehicles, and matches with 120 players. It's a little less composed than most battle royale games, but that also adds an element of chaos for better or for worse. It has stability and lag issues like most other games. Some matches were more fun than others. It's also a freemium game like most of the others. It's different, but not by a lot.
Rules of Survival pushes the battle Royale player a little bit further by including 300 players on a single session. You can go in the game solo or as a team and try to survive the battle for a full round. when there are 300 people in a match, there is bound to be chaotic action and fun to be had. This is exactly what Rules of Survival provides.
The game not only goes big on the player count but also has an 8 x 8 km map. It is a well-designed battlefield with buildings and foliage to take advantage of. In general Battle Royale games fashion, the play area shrinks as time goes by and you'll have to position yourself accordingly.
There are weapons scattered around the world and you can arm yourself to the teeth easily. Overall it's a brilliant game that will give you a lot to come back to.
4. Free Fire – Battleground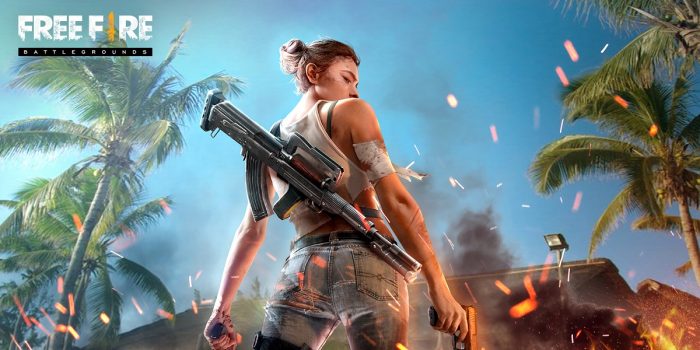 Garena's Free Fire may not be as grand in scale as the first game on our best Battle Royale games for Android list but it does come close. The biggest difference is the match timing and the player count, a 10 minute round drops you and 49 other players onto the battlefield and you fight each other to become the last person standing.
Play commences with a scene where they drop the players with a parachute, then they can deploy different vehicles to navigate across a large map. One of the best things about this game is the availability of a 4 man squad with voice chat enabled, this allows you to communicate with your team thoroughly and actually work towards victory as a team.
The graphics are remarkable and you won't find any problems regarding those. The controls are also kept simplistic and they are very easy to use; Of course they are a little bit complicated than one tap games for Android, but that is to be expected.
Conversely, Free Fire looks beautiful for a mobile game and is easily the most visually pleasing title on this list. Smoother and cleaner than the other entries, it nonetheless adheres to the same playbook – although it does support teams and vehicles.
If there's a complaint to be made it's that Free Fire's map is often too big for the relatively small player counts, and so until the safe zone shrinks sufficiently you might find yourself feeling a little lonely. Of course, the moment you find a friend they'll try to kill you, so don't complain too much.
3. Knives Out
Knives Out is another popular battle royale game on mobile. It features a lot of the same mechanics you see in other games. You drop into a map and try to survive against everyone else. The game features simple mechanics, team play, a varied map, and plenty of weapons. It's about as typical of a shooter battle royale experience as you can get. This one does have a problem with players breaking the rules and some connectivity issues. We saw more complaints for this one than most others. It's still a decent experience, but we might recommend one of the others before this one.
Drop into a huge battlefield with 99 other players, fight for your survival, and become the last guy standing. There is a big map to explore, weapons to collect, and enemies to drop in this exciting battle royale game for Android.
One of the biggest things you'll notice about this game is the terrain diversity, there are islands that you can easily explore, train tunnels that lead to different locations, and even high mountains that allow you to snipe opponents.
There are several modes available for you to enjoy, a duo mode that allows you and a buddy to tag team the enemies, a squad mode that makes it easy to go to battle with your squad as your in game squad.
2. Bullet Strike: Battlegrounds
This list isn't in any particular order, although we think Rules of Survival is one of the best. Second on the list though, is Bullet Strike: Battlegrounds. And as you guessed it by the name, it's all about the crazy battlegrounds.
In Bullet Strike, you get dropped on a deserted island with up to 20 players, and the last man standing wins. No matter how he wins. Bullet has some of the best 3D graphics for mobile, a huge arsenal of weapons, supply drops, attachments, and basically everything else you'd expect from a PUBG alternative.
The placement of the controls for this type of game, on a touchscreen, is one of its best assets. That's hugely important in any FPS game.
This is one of the best battle royale games we've seen for Android.
1. PUBG MOBILE
This is the game that made Battle Royale games use the last year and it's amazing that it runs so great on Android as well. This is a testament to not only the power of Android smartphones these days but also the engine used by this game, it scales perfectly for mobile devices.
Player Unknown's Battle Ground or as it's lovingly called PUBG, is a realistic looking Battle Royale game for Android. You and 99 other players are dropped from a plane on the battlefield and you have to fight each other to reach the first place.
You can select different weapons that are scattered across the map, equip different items to further boost your abilities and even ride vehicles to gain advantage.
There's also a mechanic that periodically restricts the play area, so you don't have to worry about players hiding in buildings. The intense gameplay of this game makes it a perfect choice for those who are looking to have fun online.
You can even make a squad with your friends and have a blast playing the game.
Overall, it's a great game that offers a lot to the players not only in terms of gameplay but also enjoyment.
By Sujeet Kumar