Until recently using an Android video editor apps on a Chromebook was a distant dream, as feasible as sending huge video files instantly to your friends and colleagues. The great news is that getting a video editor app for your Chromebook from a Google Play Store is now possible.
However, this option isn't available on all Chromebooks that are currently on the market. At present, the Google Play Store is avaialbe for some certain Chrombooks. Before go ahead, you should check the
Google Chrome OS Systems Supporting Android Apps List
.
If your Chromebook doesn't support Android apps
The process of gaining access to Google Play Store is more complicated if the Chromebook you have doesn't allow its user to run Android apps. In order to start this process, you first need to switch to the Developer Channel, which has its own risks. Back up all your data, before switching to developer channel, because returning to a stable channel requires you to do a factory reset.
To make the switch you'll need to go to Status area and click on Settings, this action will open the Settings page. Once the page is displayed on your screen click the About Chrome OS tab that shows which version of the OS you have installed on your Chromebook and which channel you are currently running.
Click on More Info to expand the info about the Chrome OS, and look for a Change Chanel option. Clicking on the Change Chanel button will present you with three options Stable, Beta and Developer-unstable, select the last option, read the warning dialog box carefully and click Change Channel.
Once all the necessary updates to put the device into Developer Channel are completed, you will be required to restart your Chromebook. After you have restarted your Chromebook, go to the Apps tray and you will see that Google Play Store app is now available. Click on it and go through the Terms and Conditions and click on accept.
1. WeVideo – Video Editor and Maker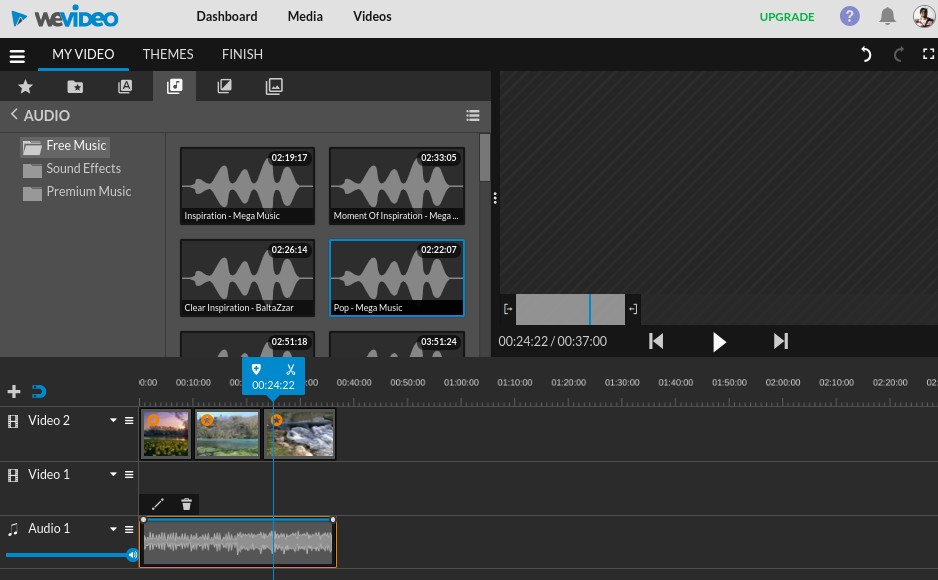 If you're looking to make videos to share on social media, which I usually heavy on the information, WeVideo can be useful. It offers a wide variety of stock video footage and images, along with sound and transitions, so you can mix up your own text along with the stock video footage in image available in the web app and create stunning videos to share on social media.
It also lets you upload your own video files and gives you up to 1GB of cloud storage, which is quite enough for a lot of people.
You obviously can't compare it this overlap two more a traditional native apps like Final Cut Pro or Adobe Premiere Pro, but it certainly gets the job done if you need some minor with everything and you only have got a Chromebook.
The free version will put a watermark on the video output, so, if you want to get rid of it, you need to have a subscription, the basic one will cost you around $9 per month.
Add to Google Chrome
2. Magisto
For those who are looking for a video editor for Chromebook that will allow you create a video without spending much time, then the Magisto app is for you. All you have to do is to upload the file, pick a theme, an audio, and Magisto will do the rest. The movies published using Magisto can be accessed by clicking "My Movies," and you can share it to any social networking sites, such as YouTube, Twitter, Facebook, and Google+.
Pros:
The upload process will never be interrupted by Internet connectivity issues, unlike other video editing tool.
The video creation process is pretty simple and straightforward. All you have to do is pick from the "Editing Styles," then select a tune from their large selection of audio tracks-- or upload your own audio.
Cons:
This video editing tool doesn't connect with a wide range of services that Stupeflix and WeVideo does. However, it allows the user to drag and drop the files from the folder.
Supported Platform:
Chrome App
Get Magisto>>
Play Store
3. Vlogit - A free video editor
A powerful video editing application for YouTubers & Vloggers which is completely free with no trial watermark! With Vlogit, making a video with music and effects is easy. You can post your creation to YouTube or other social media sites directly from the app! You can even create a custom YouTube thumbnail to upload with your video in Vlogit.
Price:
Free
What we like:
Face and color detection allows for better framing of the videos
What we don't like:
It lacks more advanced video editing features
This android video editing app does most of the work for you, all you need to do is import your favorite pictures and videos and Quick will do the rest for you. The app enables you to import footage from Dropbox, Gallery, Albums or GoPro Quick Key. The Quick app detects and analyzes faces to make smart cuts and other necessary changes on your photos and videos. Furthermore, the Android video app offers a selection of 23 different video styles and each style contains unique transitions and video graphics that can be easily adjusted to the demands of the video you are creating.
Adding text overlays or slides is yet another feature of this remarkable app that will help users to produce fun and captivating videos. Furthermore Quick provides a number of filters that will enhance your footage and make its colors stand out. Users can choose from more than 80 free songs and set any point in the song as the starting point of their soundtrack. Furthermore, you can automatically sync the transitions to the beats of the tune you included in your video's soundtrack. After the editing process is finished the Quick Android video editing app allows you to save your project to the camera roll or export it directly to WhatsApp, Instagram or YouTube.
Price:
Pricing plans range from $4,99 per month to $129 billed every three months
What we like:
A large amount of storage space for videos on the cloud
What we don't like:
Loopster offers a very limited amount of transitions and other video editing tools, and you have to pay before using
Loopster's functional and yet smart design makes this video online editor easy to use. Even the people who haven't edited a video in their lives can learn how to use this remarkable video editor in a short period of time. Loopster offers a lot of storage space to its members, but the maximum file size users can upload is limited to 2GB. Depending on the price package users can have access to 20 or 30-minute timelines, which limits the possibilities of users who would like to produce longer videos. Even though a number of visual effects offered by Loopster isn't as big as some users could expect, the online video editor enables them to slow down or speed up videos up to five times.
The owners of Movie Producer Membership, Education, and Business packages have access to over 600 sound effects, while all packages allow users to add text and graphics to the images they are processing. The maximum video resolution this online video editor can produce is 1080p, regardless of the pricing plan, but if you opt to use the free version of Loopster, the maximum video resolution is 480p. Even though Loopster provides only basic video editing options it is still one of the best choices as an online video editor for Chromebook users.
By Sujeet Kumar