One of the most-played multiplayer games Counter Strike can now be played on Android
Counter strike
has been an icon for first person shooter games from a long time. This multiplayer game play fights has the excitement and strategy at its best. But after playing it more than a decade gamers want something although seems like counter strike but different in the game play which they can try out on their Android phones. So we have come up with the names of best games like Counter Strike highly suited for Android.
The game offers a War based Action and thrill filled gameplay and features a competitive and challenging environment along without any great or appealing storyline and gradually enhanced graphics. Counter Strike presents a player-controlled protagonist who acts alone or can lead teams of characters like himself and engages in combats with the hostiles in a war-based environment. Due to the multiplayer nature of the game series, players on a network or globally using the internet can play as teams or on opposite sides as enemies. Counter Strike provides with various World Maps, Team-based and Vehicular warfare and unique experience of first person shooter gaming. You'll definitely enjoy playing it.
Now, we do not think any other game can replicate what Counter Strike can do. Having said that, there are games which have taken inspiration from it and have become the shooter games that they are today.
The legendary "Standoff" is back in the form of a dynamic first-person shooter!
New maps, new types of weapons, new game modes are waiting for you in ths incredible action game, where terrorists and special forces going to engage the battle not for life, but to death.
The game is at the beta-testing stage at this moment:
- 6 maps
- 3 game modes ("Deathmatch", "Defuse the bomb", "Arms race")
- Friends
- Lobbies
- Messaging
- Trades between players
- HUD and crosshair customization
- Text and voice chats
Critical Ops is a 3D MULTIPLAYER FPS build for mobile. Experience action, where fast reflexes and TACTICAL skills are essential to success.
Are you ready for the most skill-based mobile FPS?
Critical Ops is a first-person shooter that features competitive combat through beautifully crafted maps and challenging game modes. Battle it out alongside your band of brothers or lead an individual scoreboard. Will you fight as a member of Coalition or The Breach?
The outcome is determined by your skills and your strategy. Offering no in-app purchases that give competitive advantages, we guarantee a FAIR-TO-PLAY scene! Master a variety of weapons and skills by competing in intense PvP gameplay. Competitive ranked games pit you against other similarly skilled operatives. While playing, you will learn new mechanics and gain knowledge, allowing you to evolve as a player.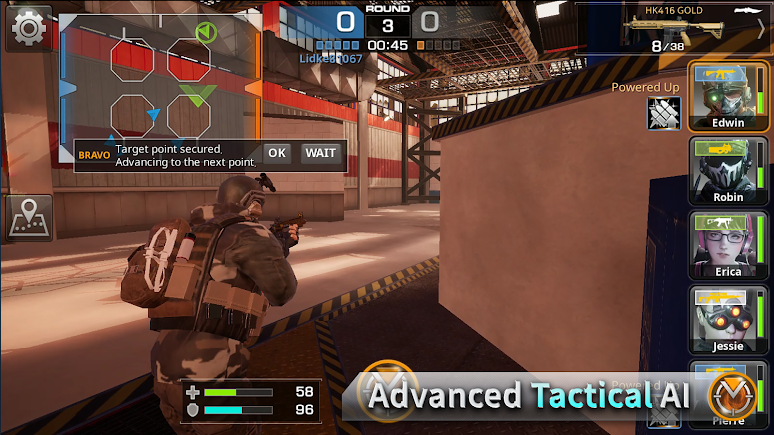 Combat Squad is a proper Counter-Strike style first-person shooter where two clans face off inside a closed setting in order to achieve their objective. On some occasions you'll have to place/deactivate a bomb, while in others you simply have to rid yourself of all enemies.
The controls in Combat Squad are perfectly adapted to touchscreens. Your joystick for moving around is located on the left-hand side of the screen and your buttons to switch weapons, reload, jump, etc., are on the right. By default, automatic shooting is turned on, but you can always deactivate it.
One of the strengths of Combat Squad is the huge number of game modes it has. There are seven total: Team Deathmatch, Demolition, Zombie Match, and Elimination. You can also play 5 versus 5 or 1 versus 1 games. There are also 10 or so different one-player missions so you can practice your skills.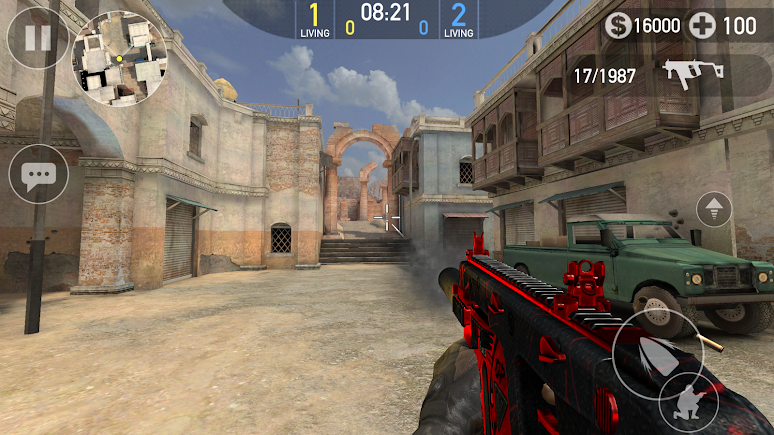 This first-person shooter features tactical gameplay, high-quality graphics, and fast-paced action. There are many guns you can choose from, and more to come. Fight as the counter terrorist CT team or the terrorist team and plant or defuse the bomb. Play on strategic-based tactical maps and bring your team to victory. You can also play a Ranked mode in this new FPS shooter, where you must climb the ladder and become the top player.
Several guns, shotguns, snipers, rifles, assault rifles and more powerful weapons you can choose from. Choose which side you are on. Be with the good cops and combat terroirs attacks or international criminal actions from happening, or you can become the criminal trying to make the world burn. Fight as the counter terrorist S.A.W.T CT team or the terrorist mafia leader and plant bombs.
Play on strategic & tactical maps and bring your team to victory.
You can also play a Ranked mode in this new FPS gun game, where you must climb the ladder and become the top player in the world.
PVP Shooter in a Modern Survival War
FPS survival game, intensive action, incredible simulator that will take you right to the action. Run, hide, distract, aim, shoot, and kill. You better have a good plan to make your army win. Play offensive, defensive or counterattack, use tactical shooting strategies to assure your victory, but be careful, this is not as easy as it seems, you should have an elaborate action plan.
Are you a fan of the good FPS shooting games? Looking for a S.W.A.T. vs Terrorists killing games?
Here is some news for you. We are ready to change an idea of free online pvp Android multiplayer shooters. Jaw-dropping graphics and optimization even for low-performing devices.
Take the part in the vanguard at the battlefield of Modern Strike Online!
Confront your enemy – it's high-time to blitz!
Game features: 8 battle modes for a single and team fight!
✪ Clans!
✪ Custom games that you create by your own rules!
✪ 14 maps to try different tactics and find your enemy's weak spots!
✪ 70 types of weapons: guns, pistols, snipers, tommy-guns, shotgun, grenades, rockets and body armors!
✪ Weapon Skins!
✪ Perfect optimization even for weak devices!
✪ Beautiful graphics!
✪ Easy and intuitive control!