Don't waste money on software for personal use! Not only do free alternatives exist, they most likely offer all the features you need and may be easier and safer to use.
Every single day, you are using a diverse mix of software and you may have come to believe that you need a commercial product for one of your tasks. Did you know that — for personal use — high quality, free, and open source alternatives are available in virtually any software category? Sounds good, doesn't it?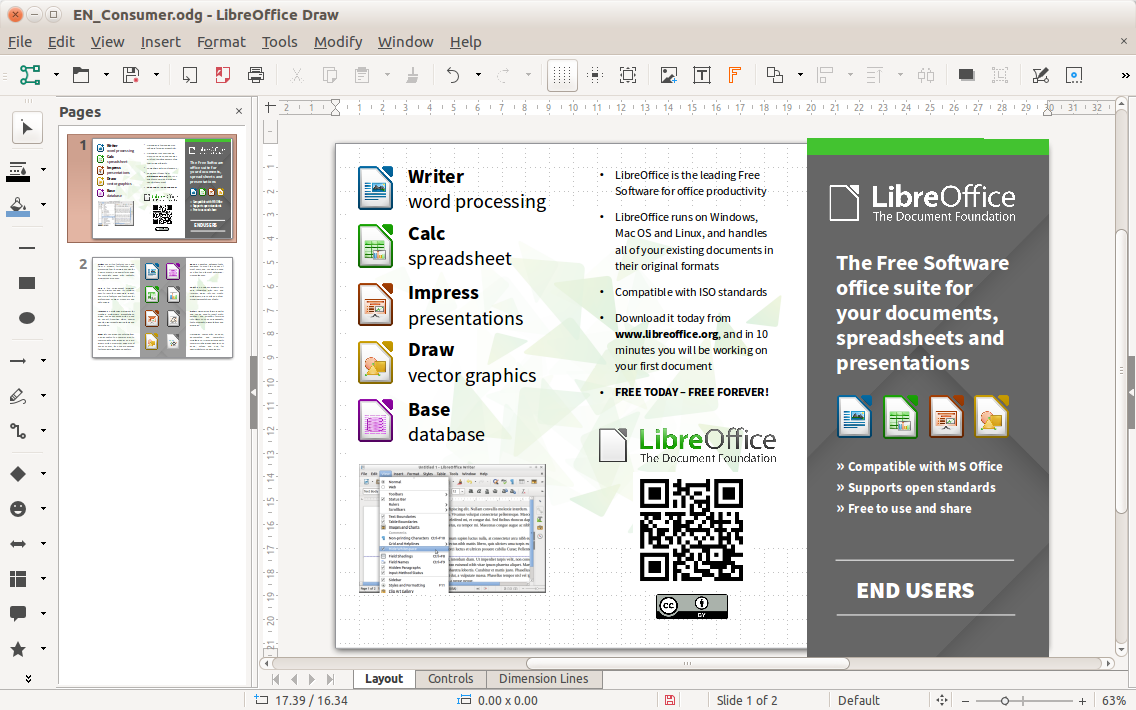 Virtually everyone needs to install an office suite in order to access documents, presentations, and spreadsheets sent to you by friends, classmates, colleagues, and others. If you're looking for a paid product in this category, the only way to go is Microsoft Office. The reasons for using it are:
Contains the most features, such as highly capable macros and advanced spelling and grammar checker
Often comes pre-installed on your system
The standard formats used worldwide are Microsoft Office formats; they offer guaranteed compatibility
Of course, the big issue with LibreOffice is that it isn't perfectly compatible with Microsoft Office — nor will it ever be. Three other options include WPS Office, Google Drive, and SkyDrive. WPS Office is a separate office application suite which emulates the Ribbon interface, but it's compatibility is subpar and doesn't even cover the newer formats. Google Drive and SkyDrive don't offer much past the basic features, but at least you have all of your work online so it won't get lost and you can work on any computer with a browser. At least with SkyDrive, you'll have better document compatibility.
2. GIMP (Photoshop)
I highly doubt that anyone hasn't heard of Photoshop yet, and there are many reasons why this is the case. It's an excellent tool, and Adobe definitely asks for a good chunk of your money to use it. Despite its expensive price, some reasons for using it include:
Simplified workflows
Innovative features such as content-aware resizing
De facto tool used by the professionals
Despite the many things that Photoshop has going for it, you can use GIMP to virtually replace Photoshop (especially if you don't have professional-level needs). Reasons for using GIMP include:
Provides virtually all of the same features
Features not included can be accounted for via plugins
Decent compatibility with PSD files
Cross platform
As mentioned above, in order to make up for some of the shortcomings of GIMP, you can install certain plugins that can provide some additional functionality such as RAW image processing or content-aware resizing. It's not a perfect replacement, but it is capable of doing a whole lot. There are a lot of keyboard shortcuts, and tutorials on how to cartoonify your photos, swap faces,
create speech bubbles
, and more. I'd recommend GIMP for everyone except professionals that really need to use every advanced feature on Photoshop.
3 Inkscape ( Illustrator)
While this isn't quite something that everyday people might dive into, vector graphics editing is still interesting to mess around with (with the right tutorials, of course). For those who don't know, vector graphics are similar to regular graphics created in Photoshop and similar applications, but these use vectors instead of pixels so they are much more scalable without sacrificing quality at any resolution level. The preferred paid application for this category would be Adobe Illustrator, and here are some reasons why you would use it:
Offers advanced features such as:

Edit SVG source directly
Clones, tiled clones, edit clones on canvas
Keys to move/rotate/scale by screen pixels
Shapes as objects
Edit gradients with handles on-canvas
Edit nodes with keyboard
One-click paint bucket fill
Color painting over objects

As an Adobe product, Illustrator is seen as the professional standard. If you are interested in going into this field, having Illustrator is a must (as well as CorelDraw).
Whether you are an illustrator, designer, web designer or just someone who needs to create some vector imagery, Inkscape is for you!
Flexible drawing tools
Broad file format compatibility
Powerful text tool
Bezier and spiro curves
Want to find out more about how Inkscape can help you? Look at the full set of
features
or
try it
!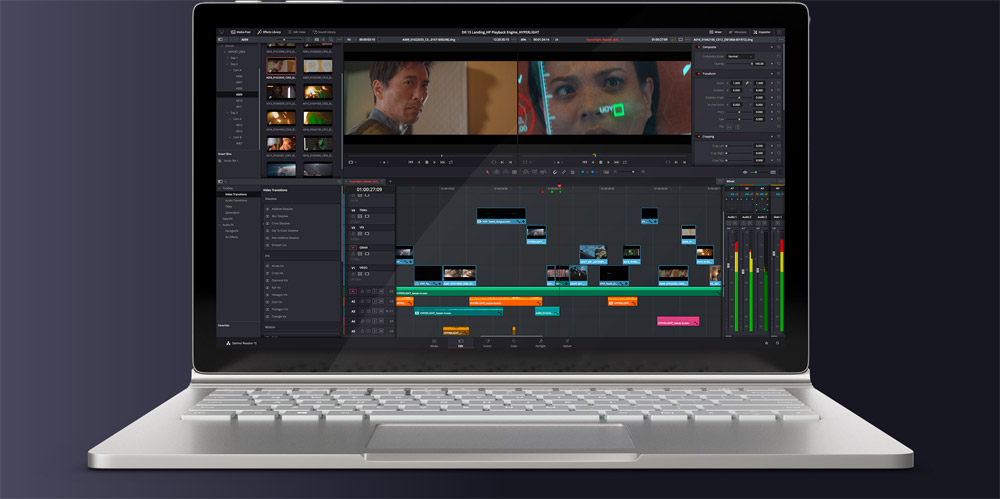 DaVinci Resolve combines the most advanced coloring tools with professional nonlinear editing functions, giving you the ability to use a single system to edit, color correct, finalize projects and deliver them. It is fully adaptable and compatible with different resolutions.
It can be used in both the recording set and in a small studio or large Hollywood productions. DaVinci Resolve has the creative tools, compatibility, speed and image quality necessary to manage processes from beginning to end, from the realization of programs with several cameras to the grading and completion of projects. The main product used in Hollywood feature films.
with DaVinci Resolve 15, everything is in the same software application! DaVinci Resolve 15 is the only post production software designed for true collaboration. Multiple editors, assistants, colorists, VFX artists and sound designers can all work on the same project at the same time! Whether you're an individual artist, or part of a larger collaborative team, it's easy to see why DaVinci Resolve 15 is the standard for high end post production and is used for finishing more Hollywood feature films, episodic television programing and TV commercials than any other software.
Replaces
Adobe Premiere Pro
($19.99 per user per month),
Avid Media Composer
($1,299 or $49.99 per month)
Short for "KDE Non-Linear Video Editor," Kdenlive has been around since 2003 and incorporates source code from many other open source projects. It currently runs only on Linux, macOS and FreeBSD, but a Windows version is in the works. Operating System: Linux, macOS
Hello editors Besides the great refactoring that is going on, we are also revamping our website and adding a video gallery section to feature a selection of curated works/productions made with Kdenlive. Visit our forum and share a link of your video along with a brief...
If you're looking for 3D printing, 3D modeling , or 3D animation software, Blender is best choice to you, at least to get started in the field. To get started with it, or even model for your objects 3D printing, Blender is the good choice. It can be a little tricky to use this tool.
Blender is a public project, made by hundreds of people from around the world; by studios and individual artists, professionals and hobbyists, scientists, students, VFX experts, animators, game artists, modders, and the list goes on.
Blender is the free and open source 3D creation suite. It supports the entirety of the 3D pipeline—modeling, rigging, animation, simulation, rendering, compositing and motion tracking, even video editing and game creation.
Replaces
Apple Logic Pro X
($199.99),
FL Studio Producer Edition
($199)
A favorite with home Linux users, Audacity can record multi-track audio, capture streaming audio, digitize recordings from other media, import files, edit and mix tracks, and much more. It includes a long list of built-in effects, and it has detailed analysis tools for visualizing sounds. Operating System: Windows, Linux, macOS
Audacity is an easy-to-use, multi-track audio editor and recorder for Windows, Mac OS X, GNU/Linux and other operating systems.
Developed by a group of volunteers as open source
Replaces
Sibelius
($599 or $19.92 per user per month),
Finale
($600)
Whether you're an amateur or a professional musician, you don't need to spend hundreds of dollars on software that will allow you to write and print sheet music. MuseScore, which claims to be the "world's most popular notation software," has the same features you'll find in the proprietary software, and it's very easy to use. Operating System: Windows, Linux, macOS
Great program and given it's FREE it's the best in it's category esp for the new "composer" much more intuitive than other programs so easy to use and figure out.