Productivity with mobility is what we've been running after since ages now in the technical world, shrinking existing technology as much as we can giving rise to new advancements such as tablets and ultrabooks.
One such thing that came up recently was the Chromebook which Google brought in a few years back as a product that would sit somewhere between the tablets precisely the iPad and the slimmer ultra books that are aimed at basic performance without bulkiness and enhanced battery life.
The Major advantage of Chromebook is lightweight OS, don't need very high-end hardware to run it, unlike Windows. Chromebook offers a good experience for online surfing, emails (with Gmail offline support) to make it ideal for students and office professionals who have limited tasks to perform.
Google's suite of applications. They are designed primarily for the educational sector, but their appeal has now expanded. If you are wondering about the pricing part, Chromebooks usually are way cheaper compared to standard Windows-based laptops.
The Acer Chromebook CB3-131-C3SZ comes with some decent features. The device is equipped with a lightweight body which is makes easy to carry around. But the device is powered by an average quality processor along with a less capacity of RAM. Those are the major disappointments for the heavy users. Adding to this the battery backup is also poor and the storage capacity is less. People can buy it as it carries a budget friendly price tag and keeping that in mind, one can say that whatever it provides to you is satisfactory
Battery and Connectivity
The laptop has a 3 cell Li-ion battery which is decent enough for normal users. The laptop offers a wide range of connectivity options such as - 802.11 b/g/n Wi-Fi , Bluetooth v4.o, one 3.0 USB slot and another 2.0 USB slot, apart from these a headphone, a microphone,a VGA port and an SD card reader.
Camera , Storage and Input device
The web camera helps to record high definition videos and make high resolution video calls. The input devices of the laptop are a touch pad with multi-touch gesture support and a standard notebook keyboard. The laptop offers 16GB SSD capacity that is not enough to store good amount of files and documents.
2. iBall Compbook Marvel 6
The laptop features a 14 inch HD (1366 x 768 pixels) screen and is powered by an Intel Celeron Dual-Core processor with 1.1 GHz clock speed. Whereas for handling graphics, there is an Intel HD 500 graphics processor.
The Compbook Marvel 6 comes with a 32 GB storage expandable up to 128 GB along with 3 GB of DDR3 RAM for multitasking.
Additionally, the laptop has a webcam, along with internal microphone and dual speakers. There is no fingerprint scanner or optical drive in the laptop.
The Marvel 6 laptop weighs 1.41kg and measures 330 x 222 x 24 mm. The laptop comes pre-installed with Windows 10 OS.
Additionally, the laptop has a USB 2.0 port along with a USB 3.0 port. The Compbook Marvel 6 has a Li-Po battery and comes with a 38 W AC adapter.
3. Xolo Chromebook (Quad Core Processor, 2 GB RAM)
It is mostly the same hardware, like the Nexian Chromebook with Rockchip ARM cortex Quad-core 1.8 GHz processor with 2 GB DDr3 RAM and has 16 GB internal storage.
The GPU is ARM Mali-T764 Graphics chipset. The resolution on the Xolo Chromebook is lower compared to the Nexian Chromebook with 1280*720 pixels.

XOLO Chromebook is a smart laptop that gets ready when you are as it boots within 10 seconds. All your photos and videos are stored in your Cloud which can be accessed anytime, anywhere from any device. Whopping 100 GB of free Google Drive storage makes space for all your favorite content.
Just sit and relax while the Chromebook updates itself. The patches and security updates are downloaded every 6 weeks and installed automatically to give your device an improved security and performance.
Choose from more than 30,000 apps, themes and extensions in the Chrome Web Store.
XOLO Chromebook is surely a smart laptop to do everything you love to do!

XOLO Chromebook is loaded with extremely powerful Cortex a17 1.88GHz Rockchip RK3288 Quad-Core Processor that processes at the speed of your thoughts. The device clocks up to 1.88 GHz making it super-fast without any lags or waiting. It boots up in less than 10 seconds making it easy and speedy to toggle between apps, allowing multitasking.
Whenever you hand a laptop to a child, you can expect that they're going to drop it, and in many cases, it may not survive. The $199 Asus Chromebook C202 ($229 as tested) will help kids avoid that fate, thanks to its durable chassis that's designed to take its fair share of bumps and bruises. Beyond the C202's rough-and-tumble exterior is an excellent keyboard and a battery that lasts over 8 hours on a charge, making it a strong choice for elementary schoolers or anyone who might let it slip.
With a 1.6-GHz Intel Celeron N3060 processor and 4GB of RAM, the C202 isn't a performance powerhouse, but it's fine for writing book reports or even manipulating spreadsheets. Just don't do too much multitasking. The browser started to lag when I scrolled through websites with only six tabs open.
The Chromebook C202 finished the SunSpider JavaScript test in 725.4 milliseconds -- just faster than the J4 Plus' score of 735.3 ms but slower than the HP Chromebook 11 G4 (556.7 ms) and the Lenovo 100S Chromebook (589.9 ms).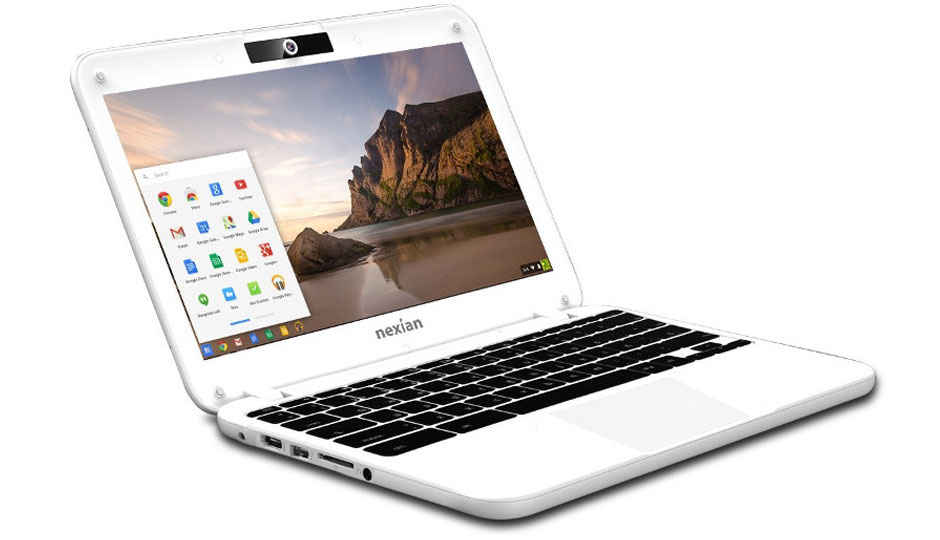 Nexian Air Chromebook has a 11.6-inch TFT display with 1366 × 768 pixels resolution. The portable notebook runs on a 1.8GHz Cortex A17 Rockchip quad core processor with 2GB DDR3 RAM. It has 16GB of internal storage expandable via SD card slot. On the connectivity front, it has 2 USB 2.0 ports, an HDMI port and Bluetooth 4.0. The notebook has a 1MP front camera and is backed by a 4200mAh battery. The Nexian Air Chromebook run on the latest Linux based Chrome OS. It comes preloaded with popular offline apps like Google Docs and Gmail Offline.
Nexian Air Chromebook is a stylish and powerful Netbook Laptop and is powered by Quad core clocked at a speed of 1.8 Ghz and sports a 11.6 inch HD display that comes with a resolution of 1366 x 768 pixels,so the picture quality is crisp and detailed.The screen size is big enough for an enriching gaming, surfing and video watching experience.On the memory front, the laptop is equipped with a hard drive of 16 GB and a 2 DDR 3 RAM,thereby making it possible to store ample amount of data.All the above features ensure that you breeze through all your tasks throughout the day.The connectivity options available on the device are WiFi, Bluetooth 4.0,2 x USB 2.0, HDMI port.It supports an optical Drive, comes with Built in HD Webcam (1 MP), Memory card reader, shock resistant.