U
sing same passwords across many sites leaves you vulnerable to hacking. If one of your accounts is compromised, then a hacker can gain access to all your accounts. Password managers can help you keep track of your passwords so that you can access all of them from a single place. Also, they come with password generators that can help you generate insanely strong and uncrackable passwords.
Keeping that information safe from prying eyes is paramount, and to do that, we need solid passwords.
With mobile, you can have them on you at all times and the security isn't half bad anymore. There are tons of password managers on PC, Mac, and mobile. Here are the best password manager apps for Android.

LastPass is about as mainstream as it gets when it comes to password manager apps. It has a metric ton of features, including auto-filling passwords into apps, sites, and even forms. It's also flashy and a lot of people like flashy these days. It also allows you to store photos and audio notes securely. There are several other more unique or uncommon features such as fingerprint scanner support, a password generator, a password auditor to let you know if your password is weak, and even the ability to grant emergency access to a friend or family member. The subscription tiers are competitively priced, but we would've liked to have seen a better offering in the free version. You can also grab LastPass Authenticator in Google Play to add 2-factor authentication for added security.
When it comes to core functionality — and you may be noticing a pattern here — LastPass is more or less the same as the other options. It generates passwords, stores 'em, and automatically fills them in across Android (through the Autofill API) and desktop (by way of browser add-ons).
If you want more control over where your data is stored, 1Password is the way to go. The service allows you to keep your info in its own cloud servers for simple syncing, just like LastPass, but it also provides options for using Dropbox, iCloud, or even a direct Wi-Fi connection for syncing between devices.
Those extra options come at a cost, though — both in terms of actual dollars and in terms of the experience you'll receive. 1Password costs $36 a year for individuals, $60 a year for families with up to five people, $48 per user per year for teams, or $96 per user per year for
pro business plans
with advanced access control.
It's got browser add-ons for Chrome, Firefox, Safari, Edge, and Opera, so it'll work on your desktop, too. You can even store sensitive documents, if you don't trust Google Drive with your tax returns (or whatever).
Plans are $36 a year for individual users, or $60 a year for families of up to five. You can try it out for free for 30 days.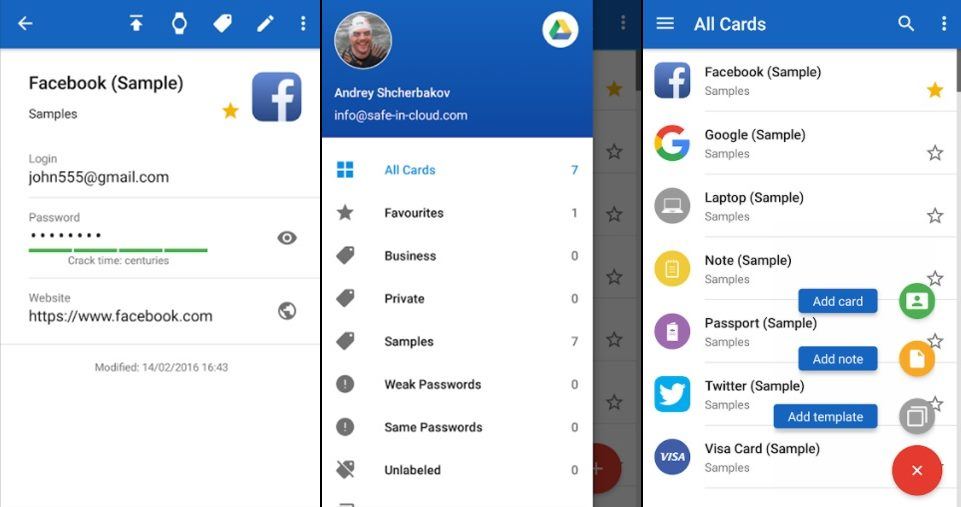 SafeInCloud is another Android password keeper that uses 256-bit AES encryption to protect your passwords. It allows you to save and sync your passwords to your favorite cloud service like Google Drive, Dropbox, OneDrive, etc. There is also a desktop app available for Windows and Mac. The app packs a powerful password generator. It helps you to generate strong and memorable passwords and also shows an estimate of the time that might be required to crack it. Also, everytime you save passwords, the app will show you its strength.
The app is user-friendly with material design. SafeInCloud has a pro version whose features are free for two weeks. You can unlock the full version with a single in-app purchase with no further charges.
Keeper offers benefits very similar to 1Password. It's compatible with the Autofill API, it generates passwords, it stores them (plus other info), the whole nine. Pricing is a little lower, too, at $30 a year for individuals (although it's still $60 for the pretty-much-identical family plan). Also, it offers a browser add-on for Internet Explorer, if that's still your jam.
Stay protected with the leading secure password manager and digital vault offering unlimited password storage for all users. Keeper's password manager generates, stores, and autofills strong passwords while protecting you on all of your devices and securely storing your private documents. Don't get hacked. Get Keeper.
Like Keeper, Dashlane offers a free option for a single device, although it only stores up to 50 passwords. To get unlimited password storage, you'll have to pay $60 a year for Dashlane's Premium plan. The higher fee does come with more features than the other managers on this list, though, including a VPN, and what the company calls "Dark Web Monitoring," which is supposed to let you know if your information turns up anywhere unsavory online. Dashlane also offers a Premium Plus plan for $120 a year that features all the benefits of regular Premium, plus credit monitoring and identity theft insurance options.