Use headphones
PUBG gameplay heavily depends on the sounds. When you are wearing headphones you hear directional sounds for enemy footsteps, gunshots and vehicles. This can greatly improve your chances of finding the enemy and eliminating them before they do. For best experience wear headphones and keep the volume as high as you can.
Choose the right server depending on its latency
PUBG mobile has various servers that a player can choose from, like North America, South America, Asia, Europe and KRJP. You can check the latency of these servers on the top lefthand corner of your screen. Pick one that offers minimum latency, as it will make the gameplay smoother. A higher latency leads to a disrupted experience of the game.
Turn on Peek and Fire
In Settings (the settings cog on the top-right),
go to Basic
. Here,
turn on 'Peek & Fire.'
This allows you to peek from behind cover, allowing you to take shots without exposing too much of yourself.
Keep in mind, you'll still expose your head, so use it with caution.
Use Gyroscope for Aiming Down Sights
PUBG Mobile brings the ability to use your smartphone's gyroscope to aim. This can be incredibly helpful when aiming down sights, or when you're scoped in since you'll be able to move your phone to aim at enemies instead of having to touch and drag on the screen. To enable gyroscope, simply head into Settings and then Basic.
Choosing your outfit carefully
Everyone likes the idea of keeping their look sleek, however, that isn't always the best idea in PUBG. According to the map you select and the area that you select to land in, you should choose the best colour coordinated outfit that helps you blend into the background. So even when you are freely roaming around in the open, you will be very hard to spot. This will lead to other players getting to know your location a bit too late when you have a perfect aim and start firing at them. Even if one or two players spot you roaming around and start shooting, you just need to start running in a zigzag pattern. That will make you avoid the bullets and after some time again get lost in the background.
Mute Annoying Team-mates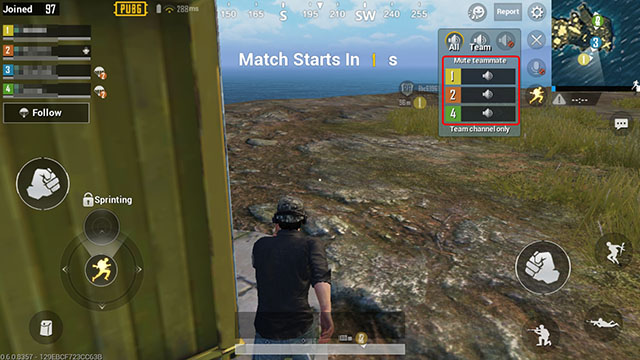 Unless you're playing with your friends, the squad mode will often pair you up with people where at least one of them is an annoying prick constantly singing and screaming into their mic. With the latest PUBG Mobile update, you can mute individual team-mates by
tapping on the speaker-icon
. This will open up a menu with all your team-mates' names on it, simply
tap on the speaker icon next to the team-mate you want to mute
and that's it. Now focus on the game.
Hide and peek
PUBG games almost always end with a tiny group of fighters lying around on the floor hoping someone else pops their head up first. That person usually gets domed immediately, by the way, so make sure it isn't you.
Going fully prone in PUBG is an important maneuver, so much so that it has its own dedicated button. It's also a double-edged sword, however, as while you'll get a nice recoil and accuracy boost and generally be a little more hidden, mobility is almost non-existent.
If someone approaches you from behind while you're on your chest, you're almost definitely going to end up dead—especially if you're looking through a scope at the same time. Keep an eye on your mini map and the surroundings before hitting the floor, and don't be afraid to flank your opponents when they're lying down.